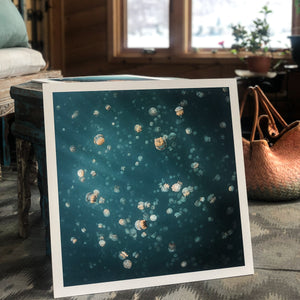 The Republic of Palau
Artwork No. 1991
Thousands of golden jellyfish drift through a weightless world. 
Photograph on Hahnemühle Fine Art Bamboo Paper
Print features a two inch white border. 
This image is printed on Hahnemühle 310 gsm Fine Art Bamboo Paper and is considered a sustainable medium as the bamboo plant requires minimal maintenance, and water, and grows quite quickly.

This translates to more cellulose being produced on the same cropland than with other raw materials, helping to save valuable resources.
Note: Size in photo featured is 17.75" x 17.75"