Live + Work in a stimulating and restorative space
Images of nature provide an indirect connection to the natural world, improving mood, creativity, and productivity.
Shop all print collections
Biophilia (n.)
The innate human tendency to seek out interactions with nature
New Stationery
Cyanotype Notecard Set featuring North American wildflowers such as goldenrod, pokeweed and mountain mint
Take me to them!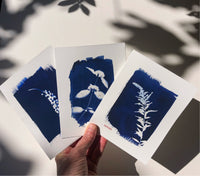 Discover Ways to create a wild life indoors
Photography is one of those fine art forms I've feared might get swallowed up, cheapened, and misunderstood in our current tech culture. Joanna is at the forefront of keeping it alive and well. Simply sublime artistry.

Brett L.